22:01 Dec 04/21 / By: SpotCam
To answer the strong demand from the market, we are going to launch SpotCam first series of business IP cameras aiming for small to medium business applications. What makes it different from traditional CCTV monitoring system is that there's no need to purchase expensive and bulky NVR, DVR or VMS software anymore, just one SpotCam camera and you're all set with a professional video monitoring system.
SpotCam business IP cameras can be setup in 3 minutes without any professional skills. All you need to do is connect the camera to internet via Wi-Fi or Ethernet interface, then the camera will do the rest automatically and you can begin watching live and recorded video anywhere and anytime using iOS/Android devices or web browsers. You can setup, access and manage unlimited cameras with whatever devices you like and viewing up to 12 cameras at the same time and enjoy free cloud recording. SpotCam allows you to enjoy complete and professional video surveillance solution easily with just SpotCam cameras and one SpotCam account, no strings attached. It is a perfect choice for small to medium business, office environment and residential buildings.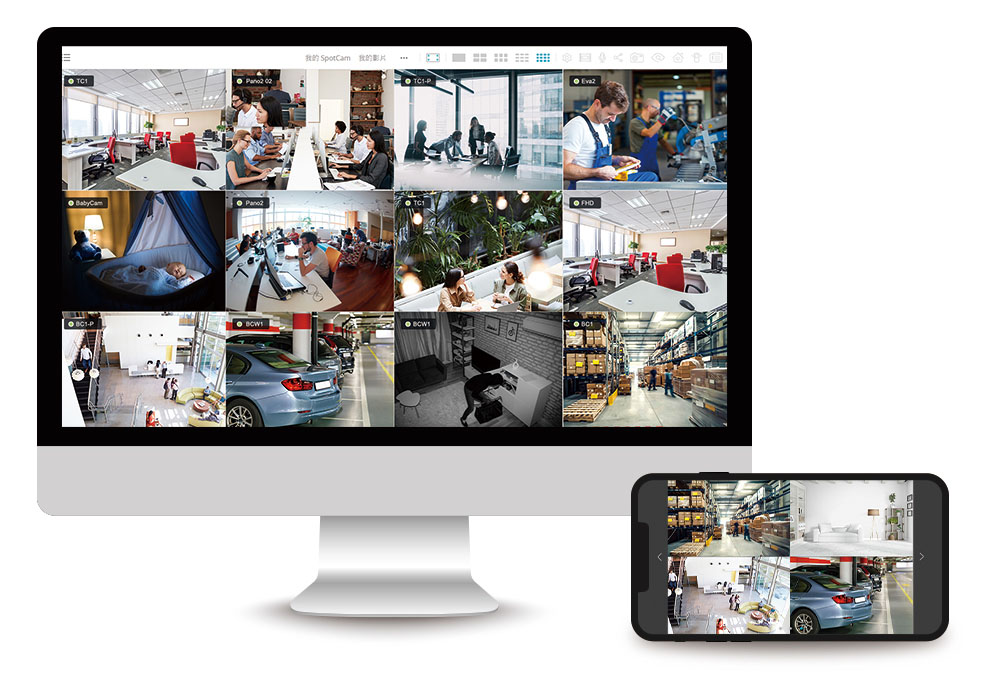 Just like all SpotCam home monitoring camera, SpotCam business IP camera comes with free 24-hour fulltime continuous cloud recording plan forever, and it also supports up to 128G local storage. With microSD card inserted in the camera, video footages can be stored in microSD card even when network is down, preventing video data loss in all circumstances and giving you an extra sense of security. If you need longer video retention, there're optional cloud recording plans up to 30 days and you can access, playback and download video data any time. SpotCam also offers diverse cloud AI services including face recognition, missing object detection, virtual fence etc. for subscription, you can freely choose what services you need and pay as low as only $3 per month for AI services.
When it comes to cybersecurity issue, you can also rest assured that SpotCam Business Solution is 100% free of unwanted backdoors and we implement SSL and AES-256bit encryption to make sure data transmission is secured. SpotCam cloud servers are established on AWS/GCP secured cloud platform located in your local locations including Europe, US, Japan, Singapore, and Taiwan, while all SpotCam business cameras are made in Taiwan and software is 100% developed by SpotCam team based in Taiwan headquarter.
There're 3 business cameras available currently including indoor mini dome camera SpotCam TC1, indoor/outdoor bullet camera SpotCam BC1, and indoor/outdoor spotlight bullet camera SpotCam BCW1. All of them are equipped with 2K high resolution image sensor and built-in human detection for intelligent video monitoring. SpotCam BC1 and SpotCam BCW1 are both indoor/outdoor models with IP66 weatherproof, furthermore, SpotCam BCW1 is equipped with both IR and white LED to support colorful night vision and also flashing mode for deterrence in the night.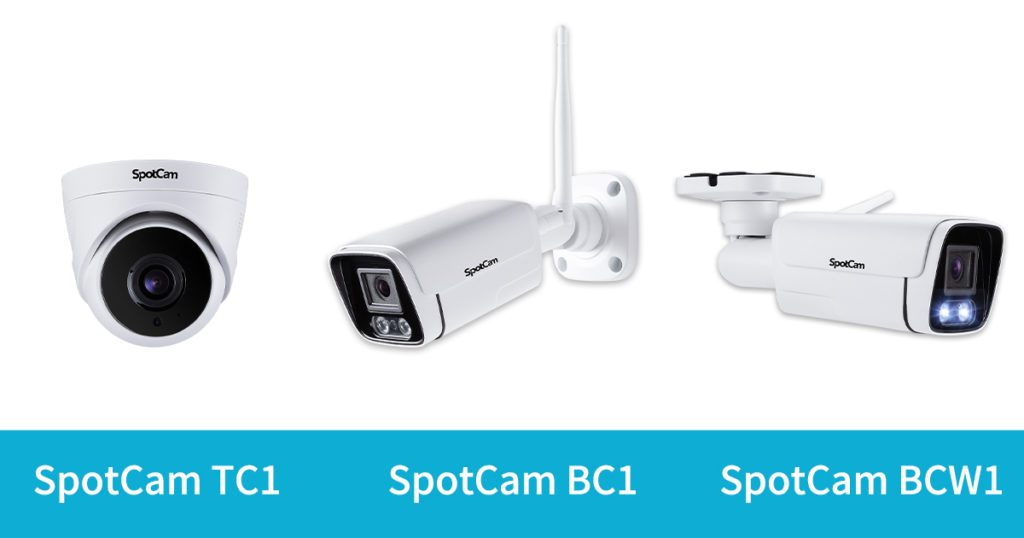 If you're confused and feeling lost in the vast amount of similar products in the crowded market of video surveillance for your business, office, or residential area, SpotCam business cameras can be the right solution for you. Just give it a try and get ready to enjoy all professional functions with SpotCam Business Solution.