18:09 Dec 03/16 / By: SpotCam
After a hype started from 2010, industry starts to see the term "Smart Home" cooling down in the market, we don't see new start-up every month touting new fancy gadget that trying to make your home smart. Exclude Amazon Echo and Google Home, there are barely any smart home products that one can recall in the past couple years.
In SpotCam, we believe smart home can be really materialized when there are applications that can fix people's problems or improve their lives. Keep this in mind, we've been working on SpotCam Sense series since early 2016 and now we are at the verge to launch it. SpotCam Sense is a cloud camera at it core, like all other SpotCam cameras, with superior upgrade such as 1080P Full HD resolution, super wide viewing angle (155 degree), SONY Exmor image sensor, and most importantly, we added below unique features to the camera:
1. Humidity sensor built-in
2. Temperature sensor built-in
3. Illumination sensor built-in
4. Alarm siren built-in
5. Built-in storage for backup recording in disconnection event
Why above features matter? Because with them, SpotCam Sense is not merely a cloud home monitoring camera, it is something way more powerful when it comes to make your life smarter and securer. Now you can monitor not only videos of your house, you can also monitor those environment vitals around or inside your house and make sure it stays in a condition you like.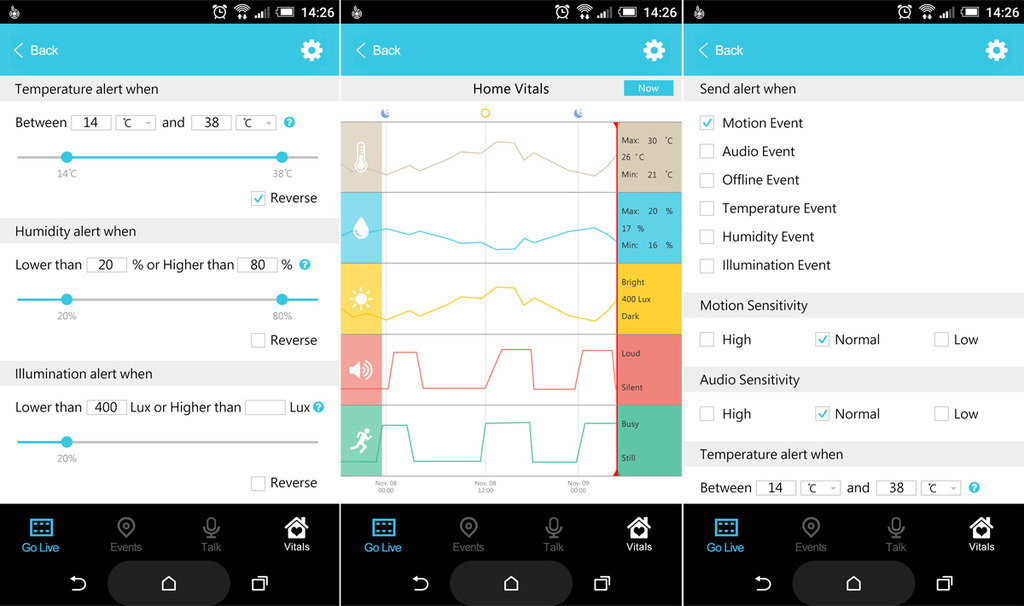 With built-in siren, SpotCam Sense can also be installed as a all-in-one security system. It smartly detects motion or audio events in your house and if you want it will make siren sound when events are triggered. Furthermore, when taking environmental vitals into account together, the siren could be used as reminder for people in the house when vital readings are out of desired range.
Now, since SpotCam cloud service is compatible with IFTTT service, you can do much more automated tasks with SpotCam Sense. To name few, You can install IFTTT compatible sensors and use them to trigger SpotCam Sense siren when events detected, or you can use SpotCam Sense vitals readings to trigger IFTTT compatible air conditioner or dehumidifier and maintain the environmental conditions of your house, or you can let SpotCam Sense to trigger IFTTT compatible smart lighting devices when illumination is getting too dark thanks to the built-in illumination sensor.
Another important distinguisher of SpotCam Sense is that not only indoor version, we are going to launch outdoor version, SpotCam Sense Pro, altogether when product launch. A cloud camera like SpotCam is rare, a smart home cloud camera like SpotCam Sense is hard enough to find, and a whether proof smart home cloud camera like SpotCam Sense Pro is one of its own kind.
Now the days are counting before SpotCam Sense and SpotCam Sense Pro grand launch and we are so excited for that day to come, stay tuned everyone!